Workers' Compensation Cases
In New Mexico, if you are injured on the job, you are entitled to payment of your medical expenses, payment of your lost time from work, and payment of one-half of your attorney's fees by the Employer and their Insurer. If your injuries are severe and affect your ability to continue working, you should contact a Workers' Compensation Attorney such as Mark Jarner (Board Recognized Specialist in Workers' Compensation since 1990). There are many issues that arise in these cases including:
The correct payment of weekly benefits
Return to work options
Healthcare providers
Permanent Partial Disability Calculations
Statute of limitations
Notice of accident requirements
Payment of other types of benefits
Harassment by employer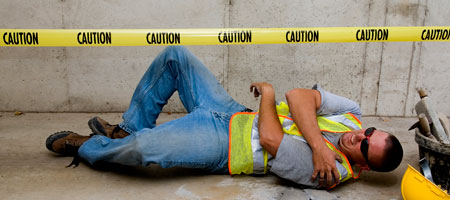 If your injuries are permanent and prevent you from returning to work, you may also be entitled to these additional benefits:
Social Security Disability
Supplemental Security Income
Short Term and Long Term Disability
Public Employee Retirement Benefits
Please call Mark for a FREE consultation.
What To Do If You Are Injured at Work
Report your accident to your supervisor immediately.
Seek medical care as soon as possible after the accident.
Find out who your workers' compensation insurance company is and contact the adjuster about payment of total temporary disability benefits (in the event that you are unable to continue working), and medical benefits.
Contact a Workers' Compensation Attorney.
---

Testimonial

I was involved in an auto accident while I was still working (on the clock). Mark was recommended to me by another attorney who did not deal with workman's comp cases. Mark took the time to explain the process to me and answer my questions in a manner that I understood. I work construction, legal matters are a bit of a mystery to me, Mark made it all make sense.

Throughout the entire legal process Mark explained what would be happening and how he thought things would work out. Every time he made a 'prediction' of how things might work out, he was dead on. Mark's vast experience shows not only in his knowledge of the legal process, but also in familiarity with the vast array of entities, representatives and attorneys. Any time I had a question, Mark would answer promptly.

All fees were explained up front and were very reasonable. It must also be said that Mark is a fighter, he never just rolled over and accepted whatever was offered, even at the 'final offer' stage Mark would take one more step and find that the other party did have a bit more 'wiggle' room and ultimately made a much better deal for me. The accident caused me a great deal of loss and Mark did an excellent job representing me.

Thanks to him and his staff I am physically and financially capable of moving forward in a very positive manner. I cannot thank Mark enough for what he did for me and my family. I would happily and without hesitation recommend him to anyone that asks.
Personal Injury Cases, Including Auto Accidents
If you are involved in an accident that is the result of someone else's negligence, you may be entitled to compensation for the damages that you suffered including the following:
Pain and suffering
Medical expenses
Lost income
Loss of earning potential
Loss of ability to perform household services
Loss of consortium with your spouse
Some of the issues that can complicate your personal injury claim include the following:
How much insurance coverage exists
Whether or not you should make an uninsured or underinsured motorist claim against your insurance company
Whether or not there are exclusions to the various policies that exist
Who should pay for your medical care (while your lawsuit is pending) whether it be your med pay coverage through your own automobile policy, your private medical insurance or HMO, Medicare or Medicaid
What type of reimbursement, if any, the medical care coverage from workers' compensation, the HMO's or Medicare/Medicaid are entitled to from your eventual settlement
Loss of use of your automobile and how much you should be paid for that
The value of your long term or permanent injuries including the value of your pain and suffering
How to apportion fault if there are various parties involved, or if there is, what we refer to as "comparative negligence"
When your injuries are very serious and long term, it is best to contact an attorney. Please call Mark for a FREE consultation.