Welcome to the Jarner Law Office. We hope our website can provide you with useful information. Mark has been practicing law in New Mexico since 1982, focusing primarily on representing Injured Workers in New Mexico, individuals injured in Motor Vehicle accidents, in Falls, and as a result of Defective Products.
---

Testimonial

Mr. Jarner is professional, knowledgeable, ethical, and compassionate. His legal expertise provided the best possible outcome for a bad situation at a difficult time.
Mark D. Jarner
— Personal Injury Attorney
— Workers' Compensation Attorney
235 Main Street
Los Lunas, NM 87031
505-865-1200 Los Lunas
505-842-0096 Albuquerque
505-865-1359 Fax
GetHelp@jarnerlaw.com
About Mark Jarner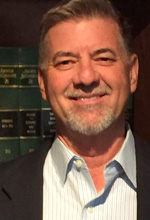 Mark has been practicing law for almost 36 years. He handles workers' compensation and personal injury claims. He has been a Board Recognized Workers' Compensation Specialist since 1992.
Mark has been listed consistently in "The Best Lawyers in America" since 2010, as well as being recognized in Southwest Super Lawyers. He has been selected by "The Best Lawyers in America" as the best Workers' Compensation claimant's attorney in the Albuquerque Metropolitian area in 2012 and 2017.
Mark received his Bachelor of Arts degree with distinction at the University of Minnesota in 1978 and his Law Degree from the University of New Mexico in 1982. He has been representing Workers' Compensation and Personal Injury claimants throughtout the state of New Mexico since 1982.
Mark's mission as a claimants' attorney is to make certain that his injured clients obtain all the benefits they are entitled to. He understands how devastating injuries can be — how they impact an individual's ability to earn an income, affect their ability to perform activities of daily living, and influence an individual's mental state and feelings of self-worth. Mark will fight vigorously for your rights.
Please call for a FREE consultation.